Product Description
Corotherm Polycarbonate Sheets are amongst the most popular choice for those in search of a long-lasting roofing system for their conservatory, carport, greenhouse and various other applications. This polycarbonate roofing sheet is available in various thicknesses, ranging from 10mm to 25mm as well as multiple finishes. Each provides a different level of light transmission, improving privacy as needed.
For added convenience, these polycarbonate roofing sheets can be purchased in a range of common sizes as well as entirely bespoke sizes. This allows you to minimise or even eliminate the need to cut your sheets during installation, with the bespoke sizes sheets even coming pre-tapped for added ease.
Corotherm are so confident in the durability of their multiwall polycarbonate sheets that they offer a 10-year warranty as long as your sheets are installed correctly. To ensure that they are we also offer the full range of compatible fixings and glazing bars to accompany Corotherm polycarbonate sheets.
Looking for cut-to-size polycarbonate? Just click the 'Cut to Size' option above and enter your measurements.
Overview of These Corotherm Polycarbonate Roof Sheets
Tough and resilient with a 10-year manufacturer guarantee

Lightweight and easily installed by DIYers and tradespeople

Provides great insulation on conservatories, greenhouses, & more

Choice of colours to achieve the desired level of privacy and light

Available in twinwall, triplewall, & sevenwall to suit your use



(Please note that due to the manufacturing process, there a tolerance of up to -/+ 3mm on the length of these sheets.)
Which Sheet Do I Need?
Corotherm Multiwall Polycarbonate Sheets are available in various thicknesses. Whilst each thickness can be used for various applications, there are a few things to consider.
10mm Polycarbonate Sheets
These sheets are ideal for light duty roofing applications including small pergolas and porches. To suit your unique project, they can be cut to your precise specifications.
16mm Polycarbonate Sheets
These sheets are ideal for light-duty roofing applications including small pergolas and porches. To suit your unique project, they can be cut to your precise specifications.
25mm Polycarbonate Sheets
Made up of 7 distinct layers these 25mm sheets are the strongest Corotherm has to offer. Suitable for larger conservatories, greenhouses and lean-tos. Thanks to this greater thickness, they offer superb impact resistance and thermal performance (U-value of 1.4 w/m2k). Available in additional finishes including heatguard opal, providing further UV protection.
Have a Question About These Polycarbonate Roof Sheets?
If you have more questions, don't hesitate to get in touch with our award-winning team. They'll help you pick the ideal product for your project, whether you're revitalizing an existing property or are tackling a larger new build. You can get in touch through our online live chat or by calling 01295 565 565.
Please note that sheets with a length above 5 metres will have an extended delivery of approximately 10 days due to them requiring specialist transport. All other sheets will be delivered in the timeframe stated below the 'Add to Basket' button above.
Product Specifications
More Information

| | |
| --- | --- |
| SKU | corotherm-polycarbonate |
| Lead Time | 6 Days |
| Custom Made | Yes |
| Brand | Ariel Plastics |
| Guarantee | 10 Years |
| Min Pitch | 5 ° |
| Max Pitch | 90 ° |
Downloads
Guides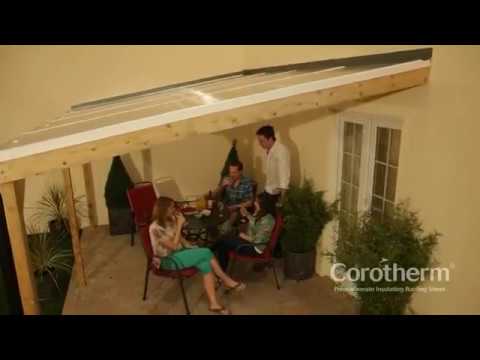 FAQ's
Where Can Corotherm Polycarbonate Sheets Be Used?
Conservatories 

Carports

Greenhouses

Lean-to's

Cloches

And More
How Do I Install These Polycarbonate Sheets?
Good question. First things first, you need to make sure you have ALL the materials needed to cover your roof's size. This includes glazing bars, end caps (of a matching thickness to your sheet), fixings and wall flashing.
If you are installing your sheets on rafters, you will need to pre-drill your glazing bar. It's recommended you do this at 400mm centres, staggered on alternate sides. Make sure you buy enough fixings to suit the length total length of your glazing bars.
If you are installing on purlins, the bottom half of the bar should be screwed onto everyone with purlin spacing no greater than 1500mm. For more detailed guidance, please take a look read the manufacturer's installation guide.
Which Thickness of Multiwall Polycarbonate is the Right Choice for Me?
Corotherm polycarbonate is available in 10mm, 16mm and 25mm thicknesses. We do not recommend using 4mm polycarbonate sheets for roofing applications, hence us only offering 10mm+ polycarbonate. For circumstances where maximum strength is required, such as on carports and conservatories, we recommend a thickness between 10mm and 25mm.
Do You Offer Cut to Size Corotherm Polycarbonate?
Yes. You can order cut to size Corotherm polycarbonate sheets with us online.
Which Glazing Bars Do I Use for This Polycarbonate?
We stock the full range of Corotherm Glazing Bars, which are purposely designed to be used when fixing Corotherm polycarbonate sheets. These glazing bars include the rafter glazing bar, purlin supported glazing bar base and more.
Which Fixings Do I Use for Corotherm Polycarbonate?
We stock Corotherm Super Fixing Buttons, which are purposely designed to be used when fixing Corotherm polycarbonate sheets. These are available for 10mm, 16mm and 25mm sheets. The number of fixings required is dependent upon the use and thickness.
Delivery Information
We understand that ordering products online can be daunting, especially when ordering roofing materials. It is for this reason that we make our delivery processes as simple as possible for you. However, there are a few things to know about our delivery processes. These include:
When placing an order, you'll see a breakdown of your delivery charge in your shopping cart. These charges are for the UK mainland only, and additional charges may apply for Northern Ireland, the Scottish Highlands and other regions.


Deliveries only take place on working days (Mon - Fri) and do not take place on Bank Holidays.


You'll find an estimated delivery on the majority of product pages below the 'Add to Basket' button. Whilst we aim to deliver your items within the estimated delivery, it is only an estimate.


You're able to select a preferred delivery date in your shopping basket. Whilst we aim to deliver your items on this date, it is not guaranteed.
Orders placed after 12pm, during the weekend, and on a bank holiday will not be processed until the next working day. Please consider this when placing your order as it may impact your delivery date.


After you've placed your order, you'll receive an order confirmation by email outlining the details of your order. Please check your order confirmation email and inform us of any mistakes or errors immediately.


Shortly after receiving your order confirmation you'll receive a separate email confirming the planned delivery date.


We can only provide a delivery date and are not able to confirm the time delivery will be attempted. Therefore, we ask that somebody is able to accept and sign for your items throughout the started delivery date.


If you are unable to accept and sign for an order, it can be left in a safe location in most circumstances. Please email

[email protected]

if you would like an item to be left without a signature.


Whilst we aim to hold the majority of our products in stock, due to the vast number of products we offer this is not always possible. Because of this we are required to send your items directly from the manufacturer on a small number of occasions, at which point a different delivery charge may apply as standard.


On occasions the items ordered may be shipped from different depots, which could result in seperate deliveries taking place.
If you have more questions about our products or delivery, please contact our team online or by telephone.
Refund Information
We understand mistakes can be made and we therefore keep our cancellation and returns policy as simple as possible. However, there are a few things to know about cancelling an order or returning an item. These include:
Items Not Required
Should you no longer require an item, you have the right to cancel within 14 days of delivery unless the items are custom made. You needn't give us reason for cancelling your order but will be required to notify us by email. Once notified we will provide an address for the items to be returned to and arrange the necessary refund.
Faulty or Damaged Items
On the rare occasion that an item is delivered faulty or damaged, we will exchange it or provide a refund. We must be notified by email as soon as possible and may require images. To avoid such an issue, we ask that customers do not sign for damaged goods.
Custom Made Items
A handful of items are 'Custom Made'. This means they are typically manufactured to the specifications provided by you and are therefore non-refundable. This is unless they are deemed to be faulty or damaged at the time of delivery, at which point you should notify us by email as soon as possible.
Further Information
For further information on cancellations, returns and refunds please read our full policy by clicking here. This confirms any other requirements to consider (i.e. packaging), fees that may be charged (i.e. admin charges) and our policy for businesses.
This product is Custom Made and can't be resold. Read our Returns & Refund Policy to find out more.